A girl begins preparing for her wedding the moment she understands the concept of it. She will start gathering ideas starting from childhood whenever she attends a wedding, sees a beautiful wedding scene in a movie or lookouts a wedding-related advertisement.
Wedding is unarguably one of the most important days of a person's life. To make the execution of the wedding smooth and glitch-free and to make sure that you look your best on your special day; brides need to be certain about how she wants to look, what to wear and most importantly what hairstyle to adopt.
Choosing a bridal hairstyle is as important as choosing the gown. The hairstyle should be following the theme of the wedding, the design of the gown and it should accent your face. A bad hairstyle can wreck your complete look.
Here is a list of 25 trending hairstyles for brides who are getting married in 2018 and near future. We can comprehend your excitement and desire to look awesome on your big day; hence we have chosen an array of hairstyles from various cultures and influences, styles to suit any face shape, hair length, preferences and likings. Give it a read if you are unsure about which style to choose on your special day.
Also See: Unique Wedding Party Ideas
Bohemian
Like any other area of fashion; Bohemian holds a great influence in bridal hairstyles too. For brides who are not a fan of traditional and over tried hairstyles; and for girls who like to experiment with unconventional styles can go for a bohemian hairdo. Bohemian bridal hairstyles generally involve teased wavy hair, lot of falling strands, hair waves and are mostly accented with wildflowers.
 Wavy open hair with flower and leaf hair crown
Easy flowing waves are a common trait Bohemian style; be it open or knotted. The waves mostly are not gelled and tidied up. Even when the hair is knotted, waves are first made and then knotted.
The wildflower hairdo
Bohemian mostly employs wild and bright flowers; the kind which is not used in conventional styles. Use of such flowers makes the hairstyle edgy and out of the world. Different colours of flowers are mixed with vines, leaves and twigs to complete the wild hair crown look.
The monochrome flower open hairdo
If you don't want to take too much risk and make it minimal go for a monochrome bohemian hairdo. It involves a plain knot or wavy open hair with monochrome flower accessories. The whole hair accessories and flowers would be of the same colour. Usually, big Scarlett red roses or white roses are commonly used. Use some exotic flower as it gives it a wild twist and to make it more boho.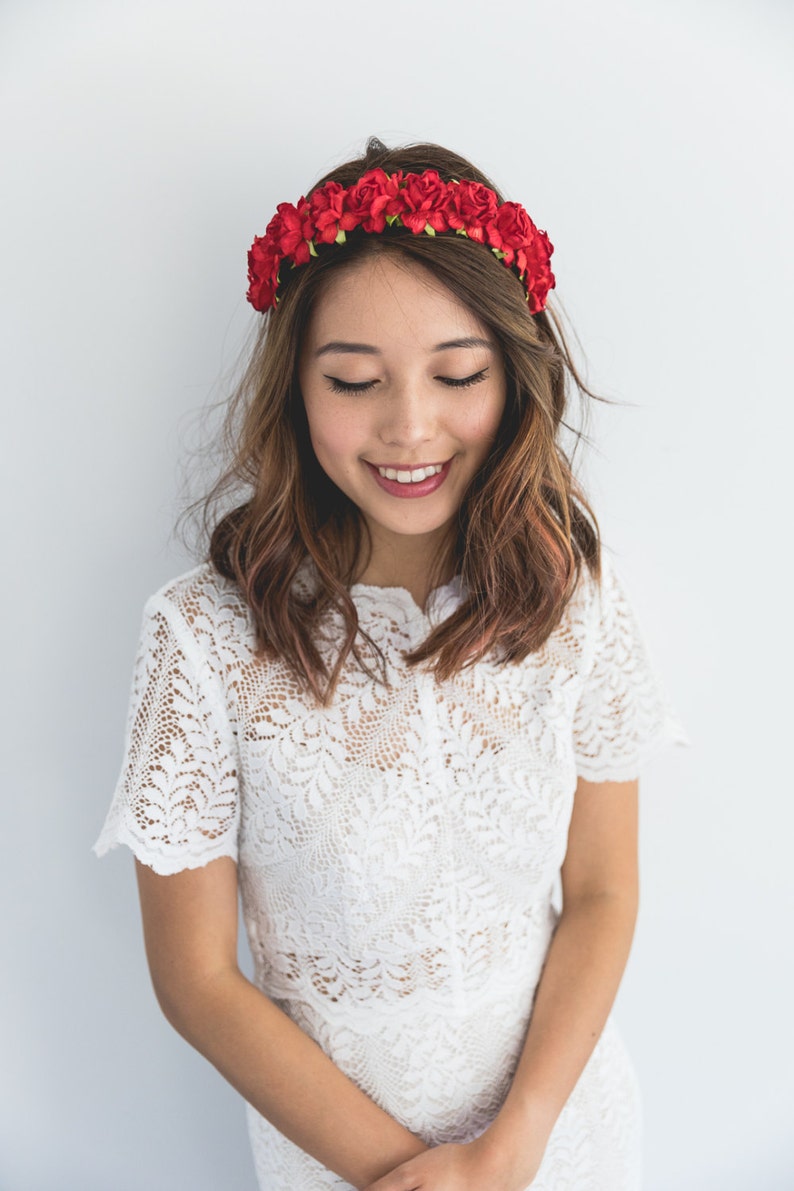 Baby's breath hairdo
Not all the hair strands are tied back together; this particular bohemian style allows the strands to fall on its crude way. Hair gel and humongous hairpins are not used therefore hairstyle will not look forced or unnatural. It requires minimum effort to tie hair in a bohemian style as it makes the hairstyle look as natural as possible. In baby's breath hairdo every element is kept subtle. This all-time classic flower has many tiny clouds like blooms covering its branches. Baby's Breath is available in both natural and tinted varieties. But the common baby's breath type with white flowers and green leaves are commonly used for the bridal hairdo.
Contemporary hairstyles
 As the name suggests contemporary styles derives ideas from all other styles. In other words, it is the sum totals everything good from other styles and influences in a modern context. The contemporary hairstyles are simple, sophisticated modern and fresh.
High gloss bun
 This is a very simple hairdo; it just involves tying the hair into a high single knot bun. The process and the look are sleek and simple. Hair sprays and other products can be used to add the glow; which is crucial otherwise the style will look too simple.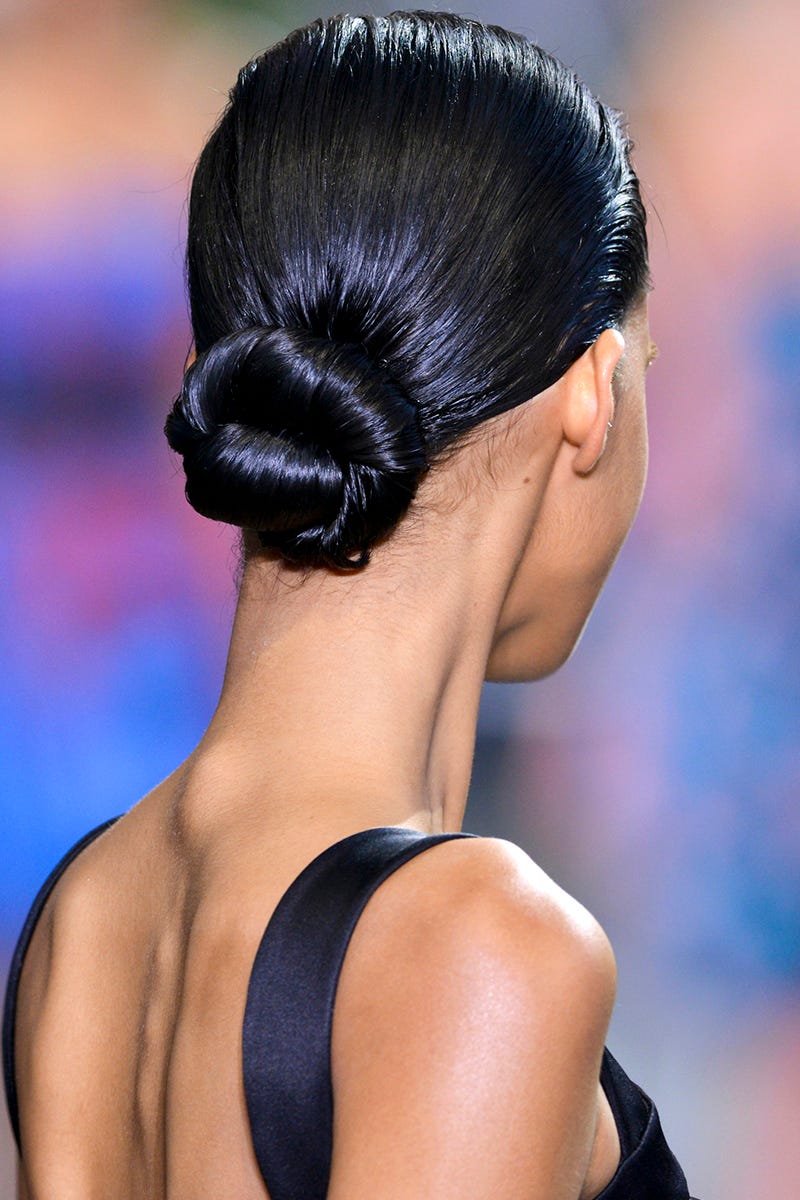 Elegant Chignon
Like the high gloss bun, this hairstyle also involves a simple bun but with a twist. Girls with big forehead or those who do not have a perfect facial shape can go for this style. The hair in the back is tied to a neat bun, the rest of the hair including the bangs are made into waves or twisted and tied to the bun. The height of the bun can be changed according to the length of the hair and shape of the face.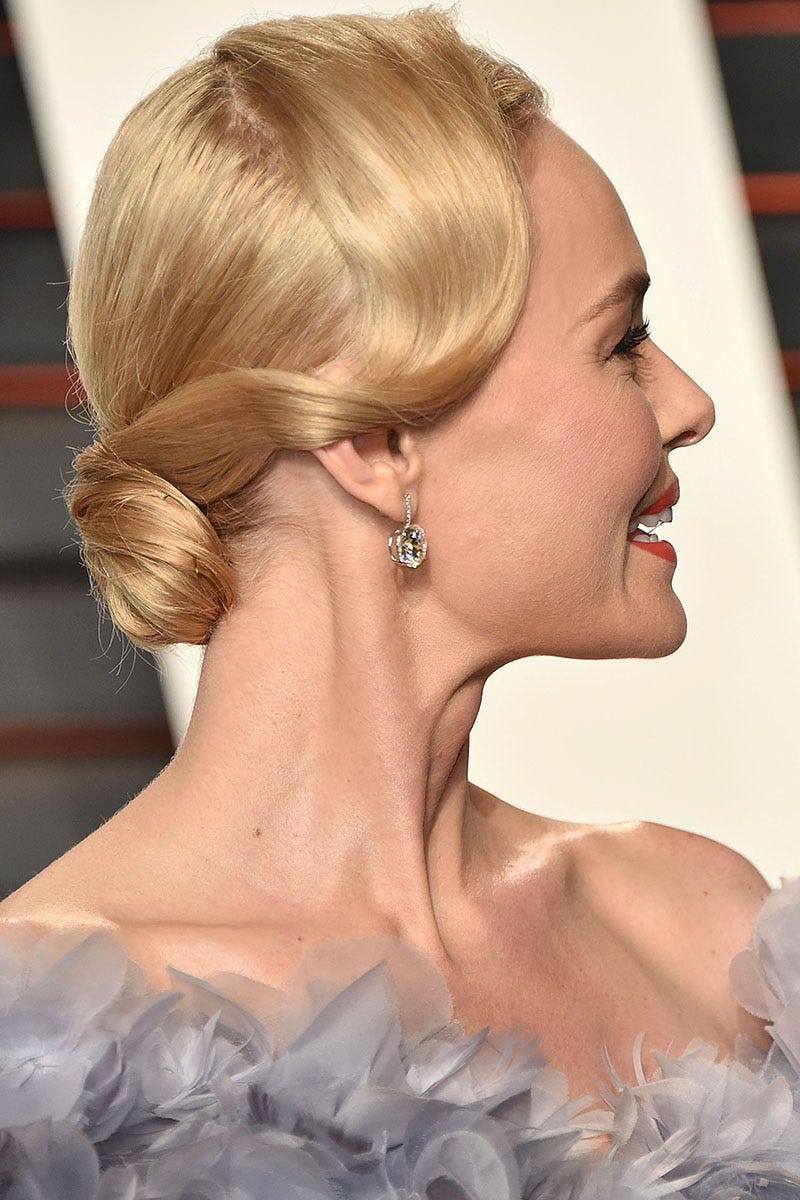 Geometric ponytail
This style involves parting or styling the hair in a way to create stunning geometric patterns on the hair. The hair can be then tied into a bun or ponytail. It takes a little effort to achieve the perfect figures but if tied errorless the outcome will look angelic.
Downtown twist
This is another simple, contemporary look where all the hair is held together and twisted to a side. This look is best suited for medium, straight hair. For hair with layers, it will be a little difficult to achieve this look with perfection as hair strands of different length can stick out. This can be tackled using hair gel and ironer.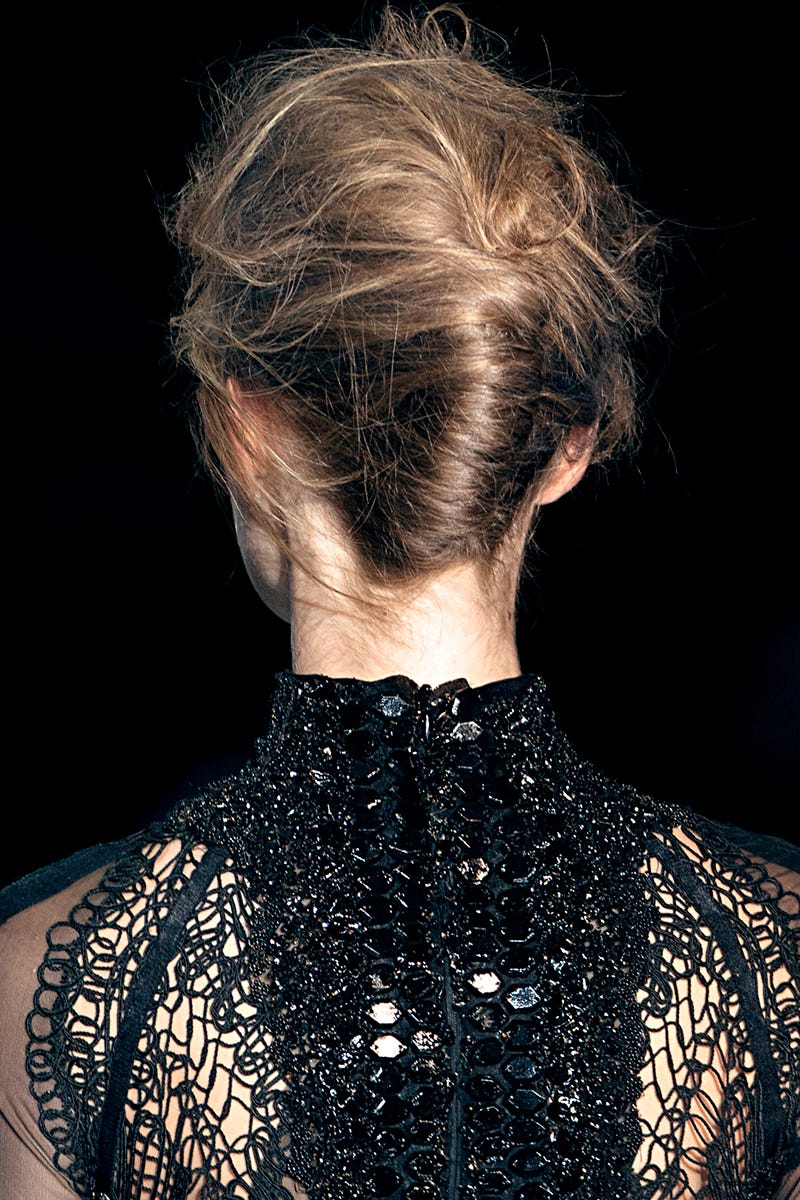 Modern topsy tail
Old are the times when topsy hairstyles were just for kids. Topsy hairstyles are increasing in their popularity and in 2018 it is going to be one of the favourite bridal hairstyles. The hairstyle involves tying the hair into a low ponytail and then securing it with an elastic band. Now divide the hair into two sections above the elastic band and flip the hair through the division to make a topsy turvy.
High bun
High buns add that vintage Hollywood drama to your bridal look. The buns can be sleek, twisted or teased but it never fails to impress. To add even drama; a French plait can be done on the back of the head below the bun for that ultimate contemporary look.
Victorian
Bridal beauty is deviating towards minimalism, subtlety and elegance and Victorian-style blends all these aforementioned traits. The charm and class of the Victorian style is making a comeback in bridal hair and makeup. According to Pinterest's Wedding Report 2018 found an 83% rise in the number of brides-to-be searching for a simple, polished hairdo for their look.
Diadem hairstyle
Diadem is the older sister of a tiara and is very Victorian. Diadem makes sure that you look Victorian and nothing less of a princess on your special day. The most commonly used diadem style is the hair tied into a simple bun and the veil is placed under the diadem.
Russian bandeaux
Bandeaux hairstyle is another beautiful bridal hairstyle which is making a comeback. In this type of a hairdo, a bandeaux is used instead of a veil. A bandeau is a light netted fabric worn across a side of face and hair. In bandeau look, the hair is all tied up to a bun on either side of the face. The bandeau should only cover a side of the face for the perfect Victorian look.
The tangled hairdo
 This is an old classic hairdo which rose to popularity with the release of the movie tangled. The hair is tied into a very loose fishtail, light-coloured flowers can be added to the loosely held knots to get the perfect Rapunzel look. If you couple the hairdo with a backless gown you would look stunning like a Disney princess.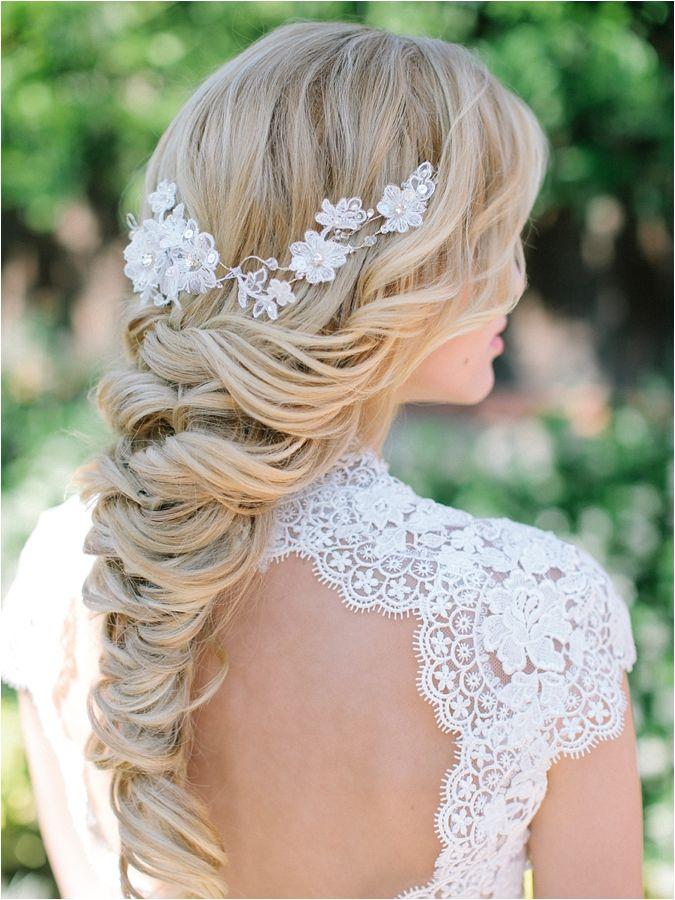 Vintage
 A classic vintage hairstyle paired with a vintage wedding dress is nothing short of fabulous and for the bride wishing something unique but still classic for her wedding day can go for this style. Compared to Victorian hairstyles, vintage is not that too old.
Finger wave updo
Finger wave is the integral feature of vintage styles. It is omnipresent in almost all hairdos of Hollywood starlets of 80's and early 90's. Finger waves were then achieved using fingers on the wet wave of hair. The classic finger wave is to tie a normal bun and the bangs and front portion of the hair is made into waves and attached to the bun.
Victory rolls
If you want to look like a bride right out of an 80's movie go for this look. It embodies all the class and glamour of Hollywood. The style is achieved by curling hair into medium waves. It can be tied or then left open. A substantial amount of hair in the front is rolled and made into a cone.
Gibson hair updo
This hairstyle goes back to the early 1900s; the frothy texture of the hairstyle is assured make the bride angelic and vintage. A lot of hairspray and back teasing is required for this style and the hair is finally gathered at the top of the head with a soft bristle brush. The height of the bun can be changed to give it a modern twist.
Hollywood waves
Another Hollywood influence straight out of 80's is Hollywood waves. This is very different from finger waves. In the style top portion of the hair is neatly straightened and the area starting from below the ear is curled into one-inch twists using a ceramic curling iron and each curl is clipped to secure it. Before setting the hair, a thick layer of hair mousse is added to the hair to make the curls last longer.
Marilyn Monroe hairdo
If you are having short hair, go for a Marilyn inspired hairdo and look like a queen for your wedding. The look is achieved by adding small curls to the short hair. Add a diadem and you are good to enchant the world.
Quick quiff
The quaff hairstyle has already made a comeback to the bridal scene. The hairdo is simple and beautiful and it will suit any face shape. The top front portion of the hair is made into a quiff and the rest of the hair is left open either straightened or curled.
The milkmaid hairdo:
This hairdo will make your look vintage and as a supermodel at the same time. The style looks good on medium and long hair with no layers. A long braid is made starting from the back of one ear to the other ear. Hair is then teased and few strands of hair are pulled out here and there to complete the look.
European
 European hairstyles are derived from influences and cultures predominant in Europe. The various influences within Europe are French, Spanish, German, Italian, British, Mediterranean and Eastern Europe. These cultures have adopted from each other and the below-mentioned styles are examples of such amalgamations.
Waterfall curls
This is a beautiful hairstyle that originates from Europe. This hairdo was not much popular style for bridal makeup because when the bride wears a veil, it covers the beautiful waterfall braid. But now this style is getting popular among brides as they are not very particular among wearing a veil. The style looks captivating and angelic and it is best suited for long hair.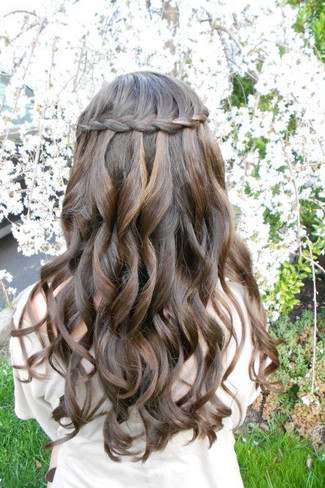 Buttery curls
The hairstyle is achieved by making soft curls in the hair and it is tied to a bun. This is suited for long hair without curls; avoid wearing a veil or any extra accessories as it would compromise the beauty of the girls.
Box braid bridal hairstyle:
This is best used for curly, bushy thick hair. It will be difficult to tame such hair into a style. Inbox braid style the hair is braided into thin plaits and they are tied together. This holds the tick bushy hair nice and secured.
Bouquet of curls
This hairstyle resembles a beautiful wedding flower arrangement; the highlight of the hairdo is the hair styled into a bouquet of roses. The hair mimics the petal and makes the bride look like a goddess on her special day.
Princess roll hairdo
A bride should look like a princess on her wedding day and this hairstyle helps in achieving it. The hairstyle involves a neatly tied lower back bun with either side or both sides of the hair rolled into the bun.
Not all hairstyles suit everyone, before fixing a hairstyle try all your favourite hairstyles and choose the one that suits you the most. If you wish for a long hair look and you have short hair, get extensions or other artificial methods and complete the look. Always get an expert opinion and consult a stylist before making the decision.
Also See: 30 Ways to Surprise Your Groom at the Wedding
About