Wedding cakes don't always have to be multi-tiers or magnanimous to make an impression. If you have budget or time limitations, or if you encountered a last minute cake mishap or if you are planning to DIY your cake; whatever the reason, but simple cakes can be made to look as impressive as a giant, expensive cake. Here is a list of simple wedding cake ideas if you are looking for minimalistic options.
Flower adorned
A plain white cake can be taken to the next level by strewing some colorful flowers over it. Like this simpleton cake here. The cake is petite and single layered, the icing is done in a haphazard manner; it is just plastered around the cake. But placing those wild flowers over it made a big difference. This is as simple and elegant as it can get. When it comes to flowers; you have a multitude of choices to choose from, edible flowers, dried flowers, wild flowers etc. It is ideal to use bright edible flowers so that you don't have to remove the flowers before eating.
Herbs
Herbs do same to the cake as a flower does. Unlike flowers, Herbs only imparts the color green to cakes. But herbs definitely lift the outlook of the cake and help amplify its elegance. Go with this cake if you have themes like herbal, green or something mellow. The herbs can be used on simple cakes are rosemary, basil, sage, and thyme. You can either limit the use of herbs to just the decoration or you can include the herb in the flavor of the cake to justify it. Do not deck the cakes fully with herbs; use it aesthetically.
Shell cake
The method of using mussel shells and oyster shells on white cakes have are not so popular. People are skeptical about trying this as shells on top white cakes is not so wedding friendly. But if the shells are used wisely and properly; some dead shells can transform wedding cake into super-awesome. There are two ways to use shell on cakes; you can either use the raw shell, the way it is naturally found or you can paint and beautify the shells.If your budget is not strapped, you can even go for rare, exotic shells like pink and rose gold shells.
Candied fruit
Flowers are not your only vibrant, edible decor options. Fruits are as contrasting and striking as flower and it does make your cake stunning just as a flower would do. Decorate your cake with dried or candied fruit for a colorful cake topper. The bright colors of fruits against the white base of a wedding cake make it simply beautiful.
This particular cake is chocolate and chocolate cakes are as good as white cakes for wedding and taste better. Dried orange flavor in this cake complements the chocolate flavor well and acts as an excellent adornment entity.
Whole fruit
Using a whole fruit; without drying or mincing it might sound bizarre. Sometimes a giant fruit on top of the cake might be overwhelming and would be difficult to manage the cake and even to cut it. But if rightly used, whole fruit is assured to look stupendous. Like the cake in the picture. The large apples and other fruits are used in this cake. The cake looks so simple yet appealing and the decoration of the cake looks effortless. Using the fruit flavors in the cake would make it more interesting. These types of cakes go with anything, especially bohemian themes.
Flower-fruit combo
If you are torn between flowers and fruits for your wedding cake; mix them both. Use flowers and fruits that complement each other and you will have a stunning cake. This particular cake is decorated with flowers and fruits of pink tones. A slightly dried fig with a pink core is coupled with pink rose, dark leaves with pink undertones and twigs of small pink flowers. Flowers and fruits of bright, contrasting colors can also be mixed but make sure that they look good together. Place them together and check whether the colors go together and are not too loud for a wedding cake.
Tropical
Mixing coconut, wild fruits, and exotic flowers will give you a tropical themed wedding cake. Tropical cakes best suites beach weddings and tropical location weddings. Tropical theme resembles bohemian theme in terms of color, but tropical theme sticks to tropical elements.The cake featured here has coconut and many wild flowers on top of it. The icing on the cake is created similar to coconut shavings and the cake too is coconut flavored. The orange and yellow flowers and green leaves make the cake more wild and tropical.
Hearty macarons
Edible cake decorations do not always have to be naturally occurring. Other confection items can be used to artfully decorate the cake top to make it double fun and to increase the sugar rush. You can buy ready-made macarons and use it as adornment on the cake. Macarons are something that is enjoyed by kids and elders and alike and using it on the wedding cake will make sure that your cake is very likable. For instance, these macarons cake looks yummy and adorable. Pink, heart- shaped macarons are alone used for decoration on a light pink cake. This might look like a birthday cake of a 5-year old girl but you can try this if don't want everything at your wedding to look fancy and serious.
Rock candy
Use colorful, saccharine rock candies on your wedding cake for decoration. The vibrant candy crystals will make the cake colorful as well as elegant. When it comes to rocky candy cake, it is better to stick to a few colors or a single color. If you are bent on using many colors, use the ombre effect where different hues of the same color can be used.  This particular cake uses the rock candies in shades of turquoise blue; three different blue is used in ombre technique. Rock candies can be a little hard; therefore go for this cake only if you like that. If you are yearning for soft, creamy cake, then avoid rocks.
Geometrical shape topper
Something as simple as a geometrical shape can give that due edge to a simple wedding cake. Like this cake here looks simple and the amount of work went into this is minimal. A simple single layer white cake with a slapdash icing will look too plain sailing without that leafy heart on its top. The heart shape made of a stick would again look dull and boring without that herby beautification. Two simple elements can make the cake phenomenal if they are rightly combined and used. Simple geometrical shapes can be made and stuck on the top of the cake and it will not as simple and dull as it sounds. But don't forget to experiment with the geometric shape.
Berries
Berries are wild, exotic and bohemian. Bright, beautiful berries simply strewn over the cake without any order will look as impressive as an extravagant icing. Strawberry, raspberry, blueberry, blackberry, mulberry, cranberry and many more choices are available for a berry cake. You can either stick to one berry or mix a few and make your cake incredible. If you are using one berry; you can include the flavor of it in the cake. But if you are planning to use more than one berry, limit the use of it just for the decoration. If you use multiple berry flavors in the cake it might not taste so good. The cake in the picture is a simple raspberry cake, with a raspberry flavored core. The top is decorated with raspberries of different shapes along with crushed pistachios sprinkled around it.
Cookies and cream
This is not a snack idea for kindergarten kid; this is a wedding cake type. The cake can be well adapted to a wedding scene and it is not as juvenile as it sounds. As the name suggests the cake's core ingredients are cookies and a generous amount of cream. The cake featured in the picture is a simple rendition of this idea. The single tier cake has a sparse icing and the decoration is completed with illustrated topper and a blueberry rim. The illustrated topper is of a couple holding hand cut out from paper. If you find it too simple and childish, you can substitute it with blueberry topping.
Landmark topping
If you are down to the wire on your wedding preparations and have not decided your cake, go for a landmark topping. As the name suggests, the cake is simple white, one tier with a landmark structure as decoration. You can choose the landmark which has relevance in your life, like the place you met or the place of the proposal. The advantage of this cake is that it will look planned and thought out; not last minute decision. The cake in the picture sports a Parisian topping with an Eiffel tower replica on the top. You can either go for edible structure, like one made out of waffles and if you have time limitations, go for a paper cut out. No one will know!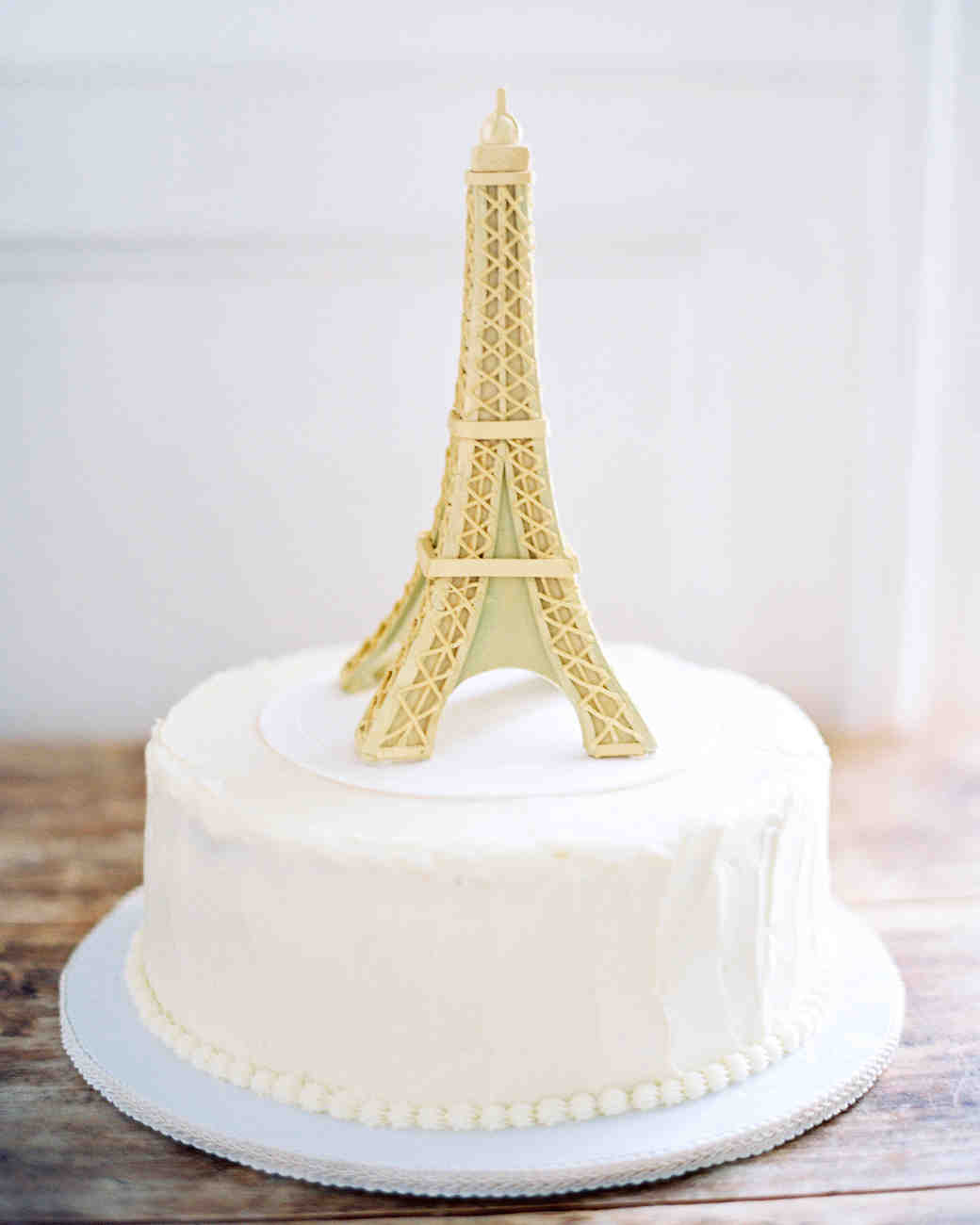 Gold coated
A gold cold might sound extravagant and expensive but it can done minimally without breaking your bank. As the name suggests the gold coated cake will have gold metallic coating all over it. But just a metallic coating would make the cake dull; make additions like gold and white flowers or small beads of it to the decoration. The cake featured in the picture is a single tier gold cake with a couple figures on top of it.
Naked cake
Naked cake simply means a cake that looks crude without an icing. This cake is not sleek and elegant like normal wedding cakes but they are delightful. The lack of charm because of the absence of icing can be balanced by flowers, fruits and berries. Like the cake featured in the picture. This particular cake is 3-tier without any icing. The edges of each layer have different shades; this makes the design intriguing and they look stunning together. This beautiful confection is lemon-flavored and is simply designed with few white roses placed in each layer.
Rustic cake
Rustic is a loved theme when it comes to wedding but it is seldom in the case of wedding cakes. Rustic brings the charm of old, countryside and it combines dull elements and pale colors. But all the simple elements when put together blend harmoniously and creates a stunning outcome. The cake in the picture is so simple with a two wooden sticks as its topping. The idea sounds so strange and unconvincing until we look at the picture of the cake. The wooden sticks along with a cacti head and some desert flowers look brilliant and classy together.
Plain four-tier
If you want your cake to be multi-tier yet simple, this is your best bid. White plain tier cake should look simple and the only decorated that is done in this cake would be some experiment in icing. Like this cake here, it is plain and simple and the only design it has is in the icing. The icing is rough and not disciplined, broad strokes by the icing tool made on the cake makes it look like a fresco. This cake design is simple, disheveled yet impressive.
S'mores cake
A s'more is a sweet snake made of a fire-roasted marshmallow and two pieces of graham cracker with a layer of chocolate wedged between them and is traditionally consumed as a nighttime campfire treat in many countries. Everybody loves s'mores and they will bring back a lot of memories. Incorporating this to your wedding will be within your budget, would be simple and stunning. This particular s'mores-chocolate cake is made of marshmallow cream, toasted marshmallow icing and graham cracker crust. The heating technique creates the beautiful chocolate swirls on top of the cake.
Double shade
Chocolate and white or white and golden are the common double shades used in wedding cakes. These combinations are traditional but are always in vogue. This two layered double shade cake is champagne and vanilla flavored. The base layer is orange flavored-honey sponge with kumquat champagne confit and the top layer is vanilla with Swiss meringue and butter cream. This cake will create an explosion of flavors in your mouth. The abundance of flavor does not kill each other but complements well.
Fluffy tops
Fluffy top cakes has a lighter than air frosting. The cake sponges will also be extra soft like the icing. These white beauties do not need any extra beautification; the taste is enough for the people to remember it. The cake featured in the picture is consists of three layers that symbolizes good fortune in many cultures. The first layer is passion fruit curd, the second layer is blackberry and meringue butter cream and the third layer is almond sponge with salted- caramel filling. The three layers are made into a single tier so that in one slice you will get the assortment of beautiful flavors. Unlike multi-tier, multi-flavored cakes, you will not miss any flavor in this cake.
Rose swirled
Making rose swirly is one of the easiest methods of icing. If you wish to make your cake simple, why don't you employ the simplest method? Rose swirly cakes have only one element of design, the roses. Same sized rose patterns will be decked all over the cake, it is simple as that. To make it more dramatic you can employ the ombre technique and use different hues of the shade you are using. The cake featured here uses uniform color icing. The paled turquoise design looks, simple clean and pretty. The color and design do not call out the actual flavor of the cake which is chocolate and mint; this will bring a surprise element into the cake.
Petal chocolate cake
Petal chocolate cake as the name suggests involves multi-tier cakes with chocolate petals adorned over it. This cake looks like a masterpiece; like a lot of work, but in reality it is very simple. Like the four-tier chocolate cake in the picture. The beautiful petal patterns on the cake are achieved by simple rotational brush technique. The layers are top of the cake is decorated with scarlet blooms.
Garland cake
Garland cake refers to multi-tier cakes with long garland like adornments wrapped around it. It can be colorful confetti, ribbons or plant vines. The cake in the picture is 3-tier almond cake with butter cream icing and a vine of stephanotis wrapped around it. It is ideal to go for a plant vine as it would look elegant and classy against the white background of the cake.
Also See – UNIQUE WEDDING PARTY IDEAS